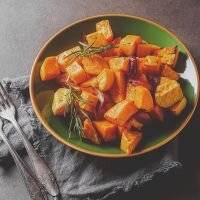 2 lbs sweet potatoes, chopped




1 sweet onion, cut into wedges




3 cloves garlic, chopped




3 Tbsp oil




1 Tbsp balsamic vinegar




Salt and pepper to taste



Preheat oven to 425 degrees.




Combine sweet potatoes, onion and garlic in a large bowl. Add oil, salt and pepper and toss to coat.




On a large shallow baking pan, add potatoes in 1 layer and bake for 35 minutes, tossing halfway through. Drizzle with balsamic vinegar before serving.