Your GenoPalate food list may include some unique and powerful grains that you're unfamiliar with. We've got some tips for you below on how to cook these grains and some ideas for incorporating them into your next meal.

Grains are a great source of carbohydrates, but some also provide fiber, iron and protein. Quinoa, teff, amaranth and spelt all provide a good amount of protein. Grains such as spelt, teff and oat bran, are high in fiber.
Boil away. Pretty much every grain you'll find on your list is cooked by boiling. Simply add them to water, bring to a boil and simmer until the water is absorbed. Each grain requires a specific amount of water and boil time, so be sure to read the package instructions for specific details.
Combine with vegetables and a protein to create a balanced dish for dinner or lunch. Millet, quinoa, or couscous are great bases for this type of dish.




Add barley, spelt, bulgur or others to a salad or soup for additional texture and flavor.




Simply enjoy as a side to your main dish for some additional whole grains. Many will inherit some flavor from the liquid used in the cooking process. Adding a broth or stock in place of water will create a more savory side.




Enjoy at breakfast! Teff packs a protein punch and can be used in place of oatmeal at breakfast. Cooked quinoa pairs well with cinnamon, apples and raisins for a morning treat.



Mediterranean Salad with Quinoa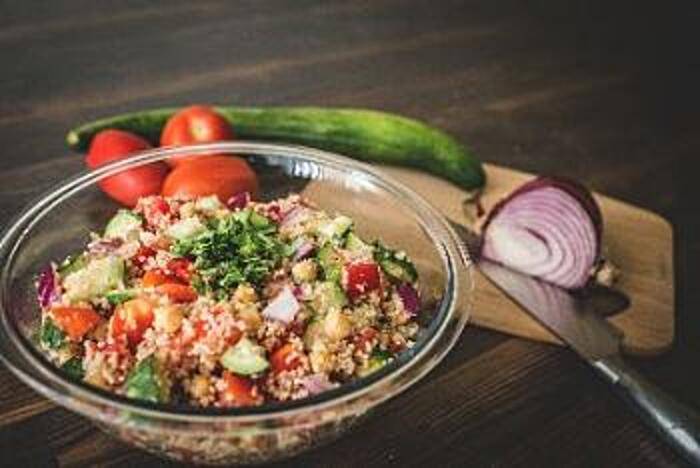 1 large cucumber, cut into quarters




1 bell pepper, diced (any color)




1 cup cherry tomatoes, cut in half




½ red onion, diced




1 15 oz. can garbanzo beans, drained and rinsed




1 cup cooked quinoa




¼ cup olive oil




½ Tbsp oregano




Salt and pepper to taste




Optional: mozzarella cheese



Cook quinoa, set aside to cool.

Prepare veggies and beans. Add veggies, beans, and quinoa to a large bowl.

Drizzle with olive oil, salt, pepper, and oregano. Mix well.




Serve as a side, on top of greens, or as a main dish!



GenoPalate Challenge
Choose two grains from your GenoPalate food list and incorporate them into a lunch or a dinner this week.