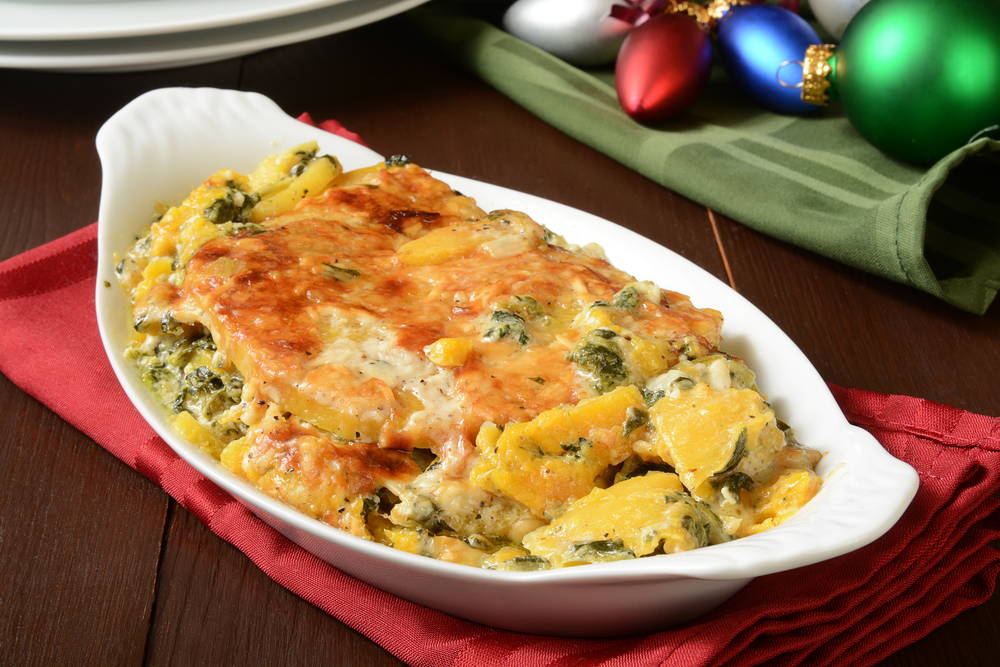 1 (2 1/2 lb) butternut squash, ends trimmed, peeled, halved and seeded then sliced into 1/2-inch thick slices

5 Tbsp (70g) salted butter

3 cloves garlic , minced

Salt and freshly ground black pepper

1/2 cup (35g) plain panko bread crumbs

1/2 cup (42g) finely grated parmesan

1/2 tsp dried thyme

1/4 tsp dried sage

1/4 cup chopped fresh parsley
Preheat the oven to 375 degrees. Spray a 13 by 9-inch baking dish with cooking spray then arrange squash in a pan, slightly overlapping them.

In a small saucepan, melt butter over medium heat, then reduce heat to low, add garlic and cook for 1 minute. Remove from heat.

In a mixing bowl toss together bread crumbs, parmesan, thyme, sage and season lightly with salt and pepper. Drizzle 2 Tbsp of the butter garlic mixture over panko mixture then toss to evenly coat.

Brush remaining butter and garlic mixture over squash in a baking dish, then season squash with salt and pepper.

Sprinkle bread crumb mixture evenly over top. Bake in a preheated oven for 35 - 40 minutes until tender, then if the topping is not browned, increase heat to 425 and bake 5 minutes longer.

Sprinkle with fresh parsley and serve warm.