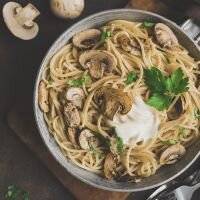 Hazelnut Pasta with Mushrooms
2 Tbsp unsalted butter




1 lb baby portabella mushrooms, ends trimmed and sliced into ¼ inch thick slices




2 cloves garlic, minced12 ounces




Angel Hair pasta




3 Tbsp hazelnut oil




½ cup chopped parsley




½ cup toasted hazelnuts, chopped




Salt and freshly ground black pepper



Heat pasta according to package instructions.




While the pasta is cooking, heat butter in a large skillet. Add mushrooms and sauté for 1 minute. Cover and simmer for 5 minutes.




Add garlic and sauté for 30 seconds. Remove the mushrooms from the pan and set aside in a small bowl. Season with salt and pepper.




Drain the pasta and return to the cooking pot. Toss with mushrooms, oil, and parsley. Garnish with hazelnuts.