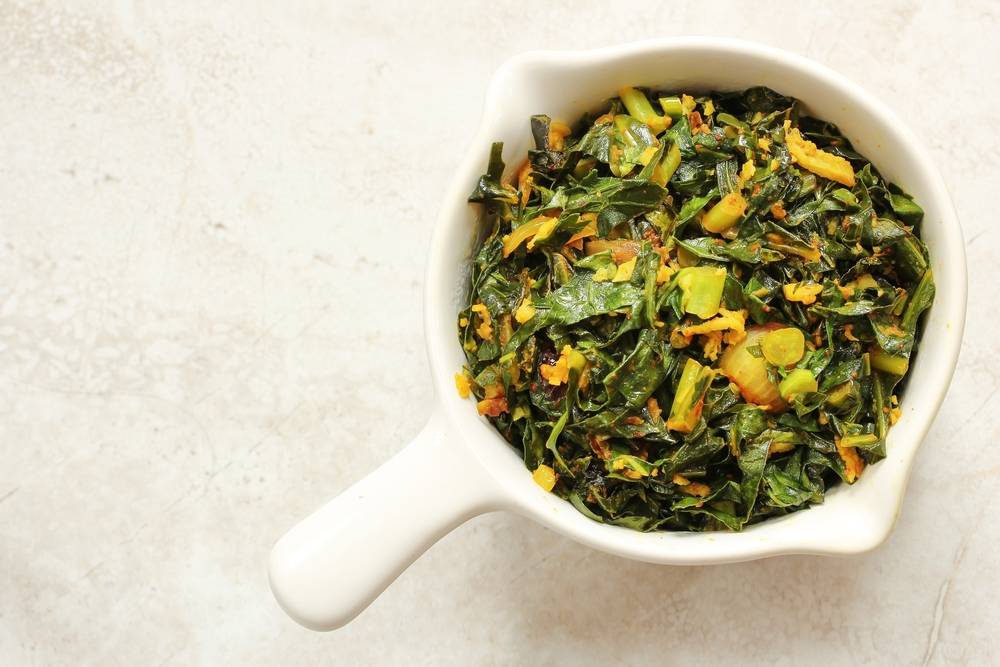 2lbs / large bunch collard greens, washed
4 tablespoons oil
1 large yellow or sweet onion, finely chopped
4 garlic cloves, minced
2 teaspoons crushed red pepper + more for serving
1 medium lemon, cut into wedges
Salt and freshly ground pepper, to taste
Prepare the collard greens by removing the woody stems, then roll up the leaves and cut them into 1/4 inch strips. Set aside.
Heat olive oil in a skillet over medium heat. Add chopped onions and garlic and sauté until the garlic is fragrant and the onion has softened.
Sprinkle in the crushed red pepper, a pinch of salt and freshly ground pepper, stir to combine. Then pile in as many collard greens strips as you can. Don't worry if they don't fit – the first handful will wilt quickly, and then you can add the rest.
Stir-fry the greens until they're just tender, and are still vibrant and green, around 3-5 minutes.
Take the stir-fried collard greens off the heat and add a generous squeeze of lemon juice. Sprinkle a little extra crushed red pepper, salt and freshly ground pepper. Serve immediately! Enjoy!