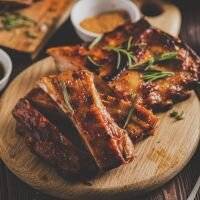 1 Tbsp garlic powder
1 Tbsp onion powder
1 Tbsp chili powder
1 Tbsp smoked paprika
1 Tbsp black pepper
1 Tbsp cayenne pepper
2 tsp salt
1 rack baby back ribs

Preheat oven to 300 degrees.
In a small bowl, mix spices together. Strip membrane on back of ribs, then rub seasoning mix on both sides.
Bake for 3 hours on baking sheet with parchment paper.
Serve with steamed cauliflower and a side of kidney beans.