Asian Inspired GenoPalate Bowl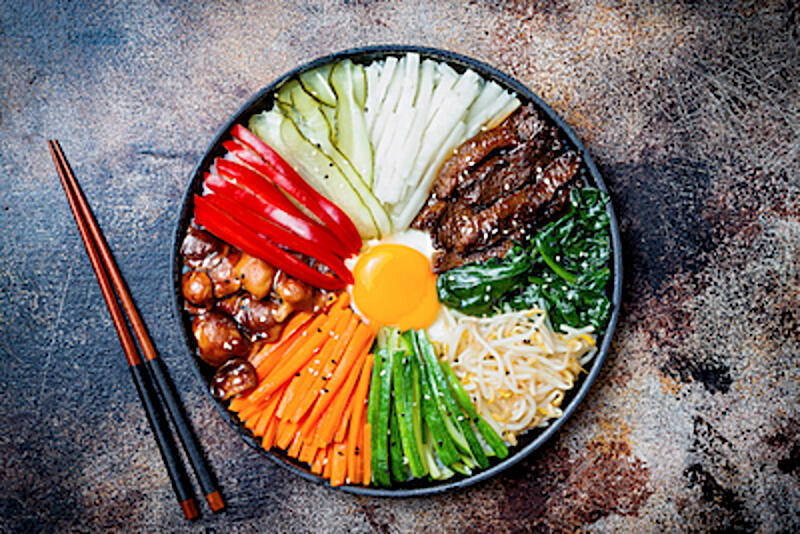 3 oz. lean beef (use tofu, seitan, or another protein for a vegetarian option)




1 cup soba noodles




½ cup bok choy




1½ cup vegetables - daikon, red bell pepper, carrots, white mushrooms




1 Tbsp. sesame seeds and/or pistachios




Cooking oil




Fresh cilantro, for garnish
2 Tbsp peanut butter or nut butter of choice

1 Tbsp water (to thin - more if desired)

¾ Tbsp soy sauce (can use coconut aminos or tamari as soy-substitutes)

¾ Tbsp lime juice

½ Tbsp honey

Cayenne pepper (optional)
Cook beef (or protein of choice) on the stovetop with cooking oil over medium heat until the meat reaches an internal temperature of 145 degrees F (steaks) or 160 degrees F (ground beef).
While protein is cooking, prepare noodles according to package directions.
Rinse and chop the bok choy and vegetables.
Place a Tbsp. of oil in a skillet over medium-high heat and cook the vegetables for approximately 5 minutes. Then add bok choy and cook until wilted or desired consistency.
While vegetables are cooking, combine ingredients for the sauce in a bowl and set aside.
Chop fresh cilantro.
Once you have prepared everything, combine noodles, beef, and vegetables into a bowl. Drizzle desired amount of sauce over your dish and garnish with sesame seeds, pistachios, and cilantro.
Make substitutes based on your GenoPalate Report! Try using a different grain instead of noodles or subbing in various vegetables.
GenoPalate Challenge
View your foods and create this week's grocery list!